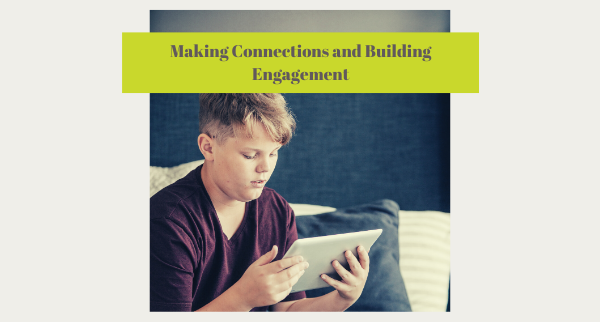 Whether students are going to school 100% virtually or participating in a hybrid model, one thing is for certain—the need for building community, making personal connections, and boosting engagement is more important than ever before. Education certainly looks different right now, and many teachers would argue that distance learning is just not cutting it academically or socially for our students. Regardless of how and when schools will resume in-person learning, teachers have to get creative in the meantime to ensure that students' needs are met on a holistic level. We cannot solely focus on providing virtual instruction during these trying times.
Journaling
It is difficult to connect to students through a camera lens. It's even more difficult to build relationships with learners you've perhaps never met in person or if you haven't even heard their voices. It can be just as uncomfortable, if not moreso, for students to engage with a new, unfamiliar adult over the computer during live instruction. To ease the unfamiliarity, some teachers are turning to a tried and true writer's workshop activity—journal time. Journaling as a warm-up activity lends itself especially well to an English course, but other content areas can capitalize on journal writing as well.
Teachers should consider starting with open-ended prompts that allow students to express themselves on a personal level. To encourage students to write freely, explain to them that their journal responses will not be evaluated or read by peers. They should understand that journaling is purely intended to share experiences and spur conversation. This also prompts students to speak candidly so that you can begin to get to know them on a more personal level—this is essential since we are no longer teaching in person. Keep the prompts light and provide options to start the routine. I always like to ask my high schoolers to tell me what their favorite and/or least favorite thing about being a teenager is. These responses give really good insight into students' lives and what they may be dealing with outside of school. I also like to keep these samples and refer back to them later in the school year to show students how much growth they've shown in their personal writing.
Identity Collage
Creating an identity collage is another useful and engaging way to get students to share a little more about themselves in a visual art form. Ask students to create a Google slide as a self-portrait. They can use an actual photo of themselves or get artistic and sketch or draw themselves. Once they've added the photo, which shows the world how they appear on the outside, ask students to cover half of their face on the slide with images, words/phrases, or other symbols that represent their underlying or deeper identity. Encourage them to think about what their peers might not know about them just by looking at them. Once students have submitted their slides, teachers can combine all of the dual external/internal self-portraits into a class "yearbook" of sorts. This way, even though we aren't physically learning in the same space, students can get to know a little bit more about their peers on a more personal level.
"All emotions" Playlist
Music tends to be a topic or area of discussion that spurs great participation, no matter your student's age or grade level. Music is also something that can unify groups of people on an emotional level, since people often view music as therapeutic. If studying language, history, psychology, or perhaps music, kids will greatly appreciate this engaging project. Ask students to compile a list of go-to songs that they would play as clear representations of a mood or emotion. For instance, what is your go-to song to listen to when you're frustrated, or melancholy, or excited, or feeling silly? Students will then make a playlist of their 3-5 songs and briefly explain how the song helps to alleviate their frustration or sadness. They'll need to answer questions like, What about this one song excites you or makes you laugh? What about this song helps you to release anger/frustration? What line or lyric from this song resonates with you when you're feeling sad?
Get Spontaneous on Zoom
Zooming all day can become draining, to say the least. Shake things up for kids by utilizing short breaks that serve a specific purpose and keep kids engaged and wanting to come back to the discussion. For example, if giving students a quick 5-minute break during your Zoom class, challenge them to come back to the session holding something orange. Ask them to come back with a hat on. Prompt them to grab their pet or favorite stuffed animal when rejoining the session. Tell them to grab their favorite snack or something that they absolutely can't live without. Take it a step further and ask students to bring a family heirloom or or family photo to the next Zoom class so students can pair-share in breakout rooms as a family-based show and tell.
https://learningessentialsedu.com/wp-content/uploads/2020/11/Making-Connections-and-Building-Engagement-Linkedin.png
322
600
Wendy Taylor
https://learningessentialsedu.com/wp-content/uploads/2021/12/logo.svg
Wendy Taylor
2020-11-28 13:48:48
2020-11-28 13:48:48
Making Connections and Building Engagement