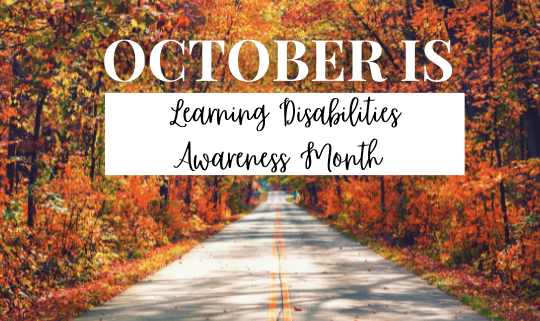 Removing Roadblocks to Build Avenues
October is Learning Disabilities Awareness Month. This important topic was first observed during the Reagan administration in 1985, and it has continued to bring awareness for the 15 million Americans that live with learning disabilities today. Awareness for disabilities such as processing disorders and dyslexia is important for everyone–not just the individuals that live with these disabilities. The National Education Association explains that, "one of the biggest challenges faced by individuals with learning disabilities is the overall lack of acceptance by society." This lack of acceptance and understanding is precisely why Learning Disabilities Awareness Month is so important. Education is key in terms of building peer relationships, promoting advocacy, and supporting families.
Here are 6 things that may surprise you about learning disabilities:
While the "nature vs. nurture" conversation is constantly debated, there is no proof that environmental factors are tied to learning disabilities. There is also no evidence to support that learning disabilities are linked to low socioeconomic status. The truth is, learning disabilities span across all races, ethnicities, and income levels.

For an unknown reason, boys make up two-thirds of the students receiving special education services in the public school system. There is no explanation for the apparent gender distinction.

Most children with learning disabilities have average or above-average

IQs

. Contrary to popular belief, learning disabilities are not linked to deficits in intelligence, motivation, or emotional development. There is no "effort factor" present in students with learning disabilities–they simply require a different set of strategies to learn and retain information.

A child with a family history of academic difficulties could be at a higher risk for a learning disability. Certain learning disabilities, such as dyslexia, are known to run in families.

Learning disabilities cannot be medically cured. These disabilities do not go away; however, they can certainly be managed or treated. A factor in successful management is to recognize how to capitalize on strengths and circumvent areas of weakness.

Experts believe that around 5% of the population struggles with a learning disability. With such a prevalent statistic, it is likely that a learning disability hits close to home in some area of a person's life.
The truth is, learning disabilities do not determine someone's capabilities. It is important to educate ourselves about these various educational difficulties so that we may better accommodate our students and children. A learning disability is not a roadblock. We simply must continue to create alternate avenues for learning so that everyone's unique needs are met.
https://learningessentialsedu.com/wp-content/uploads/2021/10/october-is-2.png
540
540
Wendy Taylor
https://learningessentialsedu.com/wp-content/uploads/2021/12/logo.svg
Wendy Taylor
2022-09-29 13:42:49
2022-09-29 13:43:25
Removing Roadblocks to Build Avenues: Learning Disabilities Awareness Month