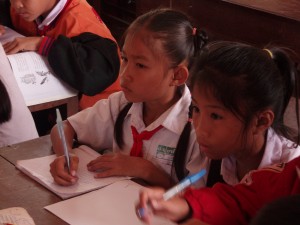 May is Better Hearing and Speech Month, which involves raising awareness about communication disorders. According to the American Speech-Language-Hearing Association, communication disorders involve "an impairment in the ability to receive, send, process, and comprehend concepts of verbal, nonverbal and graphic symbol systems." There are many different types and variations of communication disorders—and the range in severity is even more vast.
While it is likely that educators will encounter a number of students with communication disorders, it is also possible that these impairments can be misdiagnosed or go undetected altogether. Whatever the case may be, impairment or not, every student can benefit from activities and lessons that engage the class in speaking and listening. These important skills extend far beyond classroom objectives.
Skills used to present a clear and concise speech, or to comprehend written and verbal instructions, are certainly important in grade school. But speaking and listening skills are imperative to college and career-readiness. Imagine how frequently our adult lives require us to speak clearly, succinctly, or elaborately. Similarly, we inevitably spend much of our lives listening—ingesting important information, filtering out the unnecessary fluff, and responding appropriately. With such significance placed upon our abilities to communicate properly, it is necessary to begin speaking and listening skills early in the classroom.
Below are some age-appropriate activities to build students' speaking and listening proficiency.
Preschool-friendly listening activities:
Use a basic tongue twister to play "telephone" as a whole class. Begin with a shorter phrase so that students can remember the whole thing. Whisper the phrase to the first person slowly and clearly, then continue the telephone around the circle until everyone has whispered it to a partner. At the end of the line, ask the final student to say the phrase. If the phrase is different from the original starting statement, discuss how it is just as important to listen during group activities. Explain how even a short statement can become confusing or jumbled if we aren't listening closely to the speaker.
The traditional brain breaks can also work as fabulous listening practice. Simon Says, Red Light Green Light, and Musical Chairs are perfect for little ones that like to move around in the classroom. The movement also acts as a bit of a distraction to ensure that they really are listening while they're up and about.
When reading to the class, ask students to act out the emotions that the characters are experiencing. If you are telling a spooky trick-or-treat story or an exciting adventure tale, pause at certain moments in the story to allow students to mimic the character's behaviors or actions.
Early Elementary-aged speaking and listening activities:
Have students work on a Show-and-Tell project. Each student will informally present his or her object to the class or in small groups. Depending on age and ability, have students prepare a few notecards about the significance of the object. As other students are presenting, have the audience write down what each person brought for show-and-tell. Perhaps require students to ask 1-2 questions during the span of presentations. You could also create a graphic organizer asking students to categorize the items that their classmates brought in. This way, students are both asked to share aloud and listen attentively to each other.
 After story time or when finishing a class text, ask students to describe their favorite part in the story. Be sure to prompt them with follow-up questions such as

: W

hy do you think that character did that? Are you happy with the way the story ended? Why or why not? How would you have reacted during the conflict in the

story?
Create a clap-snap rhythm and ask students to replicate the sound pattern. Complicate the pattern as you go—making sure that students are both watching and listening to how the pattern

is

made. Remind students that listening attentively also means giving eye-contact to the speaker or "clapper."
Late Elementary-aged speaking and listening activities:
Plan to watch a series of commercials as the class warm-up. Once all of the commercials have played, ask students to write down the products that were mentioned in each commercial. Were your students able to identify what the commercial was attempting to sell? Prompt a discussion about what makes a commercial successful or persuasive.  
Have students work in small groups to make up a creative story on the fly. One student will begin the story, then he or she pass

es

it along to a classmate who will continue the narrative. Students must listen carefully to be sure that the story makes logical sense as it progresses around the circle.
Organize a game of charades in which students must act out a literary character from class texts. Students must walk, talk, and behave like their characters so that observers are able to speculate about who is playing which character. Discuss the importance of direct and indirect characterization and how authors wish to portray their characters.
Listen up! It's time to let the fun begin for all ages and abilities.
https://learningessentialsedu.com/wp-content/uploads/2021/12/logo.svg
0
0
Wendy Taylor
https://learningessentialsedu.com/wp-content/uploads/2021/12/logo.svg
Wendy Taylor
2022-04-27 16:33:04
2022-04-27 16:33:04
Better Hearing and Speech Month: Speaking and Listening Skills for All Ages