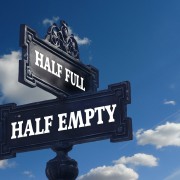 The Pros of Conflict—and How to Manage it Productively
After graduate school, one common question that I continued to encounter from one teaching interview to the next involved conflict resolution. Of course the wording varied, but the overall query went something like this: How would you handle two students that do not get along in your classroom?
My response may have been somewhat surprising, but the explanation behind the response is something that I continue to practice in my classroom regularly.
Q: How should you handle children that are having a conflict?
A: Put them together.
Now, of course, there are underlying details that correspond with this concise response—we cannot simply force friendships amongst reluctant children. But, as much as conflict is inevitable, so should be a resolution. What I try to teach my middle schoolers every day is this: life involves conflict. Life means working with people that you don't necessarily enjoy. Conflict can simply be a difference of opinion—it doesn't have to be a bad thing.
That said, conflict is not mediated by merely avoiding certain people. An important indicator of future success involves the ability to work with others. In any phase of the personal, social, educational, spiritual, or professional realm, we must always be capable of communicating, collaborating, and respecting others, no matter the situation.
Here are a few tried and true methods of teaching conflict resolution:
Put opposing students together
The key to this notion is simple—conflicts should not be swept under the rug. Ignoring a problem does nothing to resolve it. Instead, the negative feelings continue to fester and grow. At some point, the pressure will build to a volatile level. To avoid this, encourage students to confront conflicts as they arise. Create a safe space for students to practice healthy conversations with the help of an impartial mediator. The root of many conflicts is a misunderstanding. Often times, the best way to begin mediation is by clarifying the misunderstandings or calmly explaining each person's interpretation of the conflict.
Encourage "I feel" talking points
When putting conflicts center stage, it's important to demonstrate healthy communication. Have children focus on their own personal feelings, instead of what the other person is doing. Model conflict resolution by beginning with "I feel frustrated when…" This phrasing removes the tendency for people to place blame and find faults. "I feel" phrases also allow both parties to display vulnerability and practice empathy. Recognizing how and why someone feels a certain emotion opens the door for better understanding.
Facilitate collaboration on a common goal
Once students have calmly discussed the conflict or issue, encourage a working relationship amongst the students in the classroom. This does not mean that the two students will end up as "besties." Strengthening a respectful working relationship teaches children several life lessons:
Students learn that cooperation is key when working with others.
Students learn to listen to one another in order to effectively collaborate.
Students see that others' opinions are valuable—and sometimes more beneficial than their own.
Students begin to understand that problems are solved by communication and compromise.
When students share the weight and complete a task together, they unknowingly build trust and mutual respect in pairs or groups.
Conflict, while not encouraged, is inevitable. The earlier that children learn how to effectively communicate with others, the more success they will have in future collaborative efforts.  Conflict resolution can also be a very introspective process. Talking through an issue sheds light on one's own personal biases, exposes alternate perspectives, and reveals our own "pet peeves" or "tipping points." While conflict cannot be avoided, we must teach children how to productively utilize and learn from clashes with others.
https://learningessentialsedu.com/wp-content/uploads/2021/12/logo.svg
0
0
Wendy Taylor
https://learningessentialsedu.com/wp-content/uploads/2021/12/logo.svg
Wendy Taylor
2015-12-18 12:07:15
2015-12-18 12:07:15
The Pros of Conflict-and How to Manage it Productively