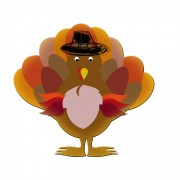 Give Thanks by Giving Back
The old adage "to give is to receive" may seem a bit convoluted to young children—especially since children are more inclined to care about their own needs being met. With Thanksgiving upon us, it is the perfect time to teach children about the importance of giving. Whether you give your time at a food bank, donate toys to needy children, or make greeting cards for the elderly or terminally ill, giving to others has countless positive effects.
There are many things that children can learn from giving.Giving back builds confidence and instills a sense of purpose. It is important for kids to learn that they can be agents of positive change. By volunteering and giving back to those less fortunate, children can see exactly how their own actions can have a great impact.
Children can gain a different perspective on life. Everyone is guilty of feeling sorry for themselves at some point. Children especially can get caught up on the idea that things are "not fair." Giving back can be a very great lesson for kids—because they're right—life is not always fair. Helping others in need is an eye-opening experience, and certainly a humbling one, as well. Yes, you get the warm feeling from the fact that you brightened someone's day, but it's more than that. In the day-to-day, we often forget to be grateful for the blessings we have. Kids are able to gain a new perspective on just how fortunate they are by helping others.
Volunteer work teaches social skills. Charity work and volunteer opportunities are often done in groups with others from the community. Volunteering with new "friends" allows children to introduce themselves, engage in conversation, ask questions, etc. The "teamwork" aspect of community service also encourages cooperation, problem solving, leadership skills, and listening skills. Whether kids are raking leaves for elderly neighbors, or organizing a coat drive for struggling families, giving back together allows children the opportunity to develop socially.
Giving back allows kids to explore their talents. Volunteer work can teach children valuable lessons about their strengths. There are always different charities and organizations that could use an extra hand. With the vast amount of work to be done, children can explore different roles while giving back. Perhaps your child is great at socializing and making people laugh during hospital visits. Or maybe your child has great leadership skills for helping at a youth camp. Possibly your advanced reader wants to read to young kids at a local shelter. No matter the task, giving back allows kids to show their strengths in the name of giving. Not only can kids practice developing their skills, but they can feel proud of the fact that their efforts are helping others.
Too often, children believe that their actions, beliefs, and opinions go unnoticed simply due to their age. By helping someone else, kids can begin to see that what they do does, in fact, matter.
https://learningessentialsedu.com/wp-content/uploads/2021/12/logo.svg
0
0
Wendy Taylor
https://learningessentialsedu.com/wp-content/uploads/2021/12/logo.svg
Wendy Taylor
2015-11-23 17:56:18
2015-11-23 17:56:18
Give Thanks by Giving Back