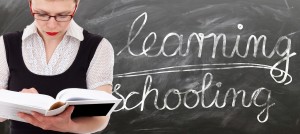 If you are an educator, you are no stranger to the days when it feels like you are constantly putting out fires. You also know by now that no amount of organization, preparation, or planning can prepare you for everything that happens in the classroom on a day-to-day basis. While the constant "unknown" or daily surprises leave us feeling stress similar to that of reluctantly participating in an improv class, it is this same "on your toes" mentality that many teachers claim to love. Whether you're the type of teacher who loves the spontaneity of the classroom or not, you are bound to the reality that problems will arise no matter what. That said, there are countless strategies for the "what if" situations that we all stress over. Seeing as September is Problem-Solving Month, what better topic for exploration?
Problem 1: Unplanned Sick Day
Yes, as a teacher, if you're coming down with something that's looking like it'll wipe you out, you likely begin to plan and find sub coverage as early on as possible. However, even the most intuitive of us sometimes cannot see the stomach bug coming. When this happens, and the early morning hours are turned into a roll-of-the-dice decision, a little bit of proactive planning can ease the stress of calling out last minute. Most schools require emergency sub plans—but creating a full-proof sub "bundle" can turn those problematic impromptu sick days around.
Here are a few recommendations:
Keep two to three solid lesson plans in the binder/folder
Use lessons/assignments that review or extend overarching skills of the class—nothing too content specific
Keep directions clear and concise
When in doubt, plan lessons that run longer, rather than shorter
Have copies or class sets ready to go and indicate where to find said copies
Include up-to-date rosters, fire drill information/protocols, bell schedules, and your teaching/off periods
Include copies of your seating charts
Problem 2: Lesson Moves too Quickly and You Are Left with Down Time
We've all had those moments where the information or discussions that we've planned simply did not elicit enough conversation to fill the expected time. Looking at the clock to find that class is 15-20 minutes from ending can be a major stressor—especially if you are in the process of being observed. When this happens, reach for index cards or post-it notes. Have these items handy at all times so that the transition is seamless. Depending on your content area, ask students to create two truths and a lie about today's topic. This requires them to look back at their notes/book and creatively identify three important bits of information from the day's lesson. Have students swap with elbow partners and ask them to identify the lie. If even more time is left, have students share out.
Problem 3: Student Asks a Personal Question that Could Open up a Floodgate of Issues
Children are naturally inquisitive. They often want to know more about their teachers than a teacher is willing to share. Especially during this explosion of social media, sharing too much information will never bode well for an educator. I've had students ask questions from, "Do you go to church?" to "Would you vote for Trump?" Sometimes the conversations emerge one-on-one with a student—sometimes in the middle of full instruction. Either way, responding to such inquiries can be rather tricky. It is always best to air on the side of caution when divulging personal information with students. Of course, being dismissive or disingenuous is not recommended either. Instead, tell students that you value their curiosity and admire their attempt to get to know you, but that now is just not the time or place to be discussing such topics.
https://learningessentialsedu.com/wp-content/uploads/2021/12/logo.svg
0
0
Wendy Taylor
https://learningessentialsedu.com/wp-content/uploads/2021/12/logo.svg
Wendy Taylor
2016-09-20 21:36:52
2016-09-20 21:36:52
Problem Solving Month: From a Teacher to a Teacher