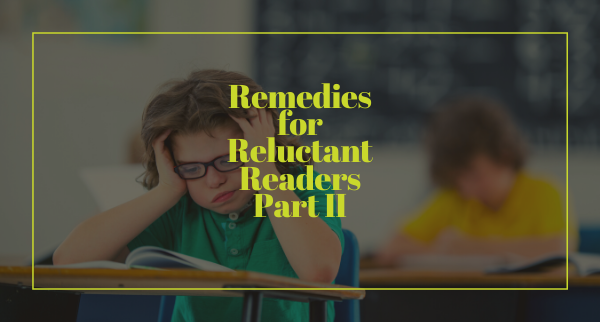 When reading for pleasure is not an instinct, it can begin to feel like punishment for kids. This is not where we want to end up. It may not be possible to turn every anti-reader into a little bookworm, but there are plenty of strategies that parents and educators can use to help make the process less cringe-worthy. Additionally, some strategies, when put to regular use, can help students become stronger, more critical readers.
Movement breaks
Reading can seem like a rather dull activity, especially for little ones. This is understandable—as reading is a quiet, still, and often solitary task. But it doesn't have to be. One regular strategy that elementary teachers utilize as a best practice is to incorporate movement breaks when students are expected to read for a length of time. Depending on the reader, a movement break might involve a trip to the water fountain or kitchen to get a drink of water after reading a chapter or section. For others it may involve jumping jacks, a quick dancing brain break, or squeezing a stress ball while reading. Some students also find it helpful to read at a standing desk, on a yoga or balance ball, or on a wobble stool to help engage the body and allow for some rhythmic movement while reading. The key is to allow and encourage reluctant readers to expel energy to keep their minds engaged and focused.
Preview for background info
For many students, the dislike of reading comes from the fact that it can be tedious and strenuous, especially for struggling readers. Therefore, offering various reading strategies to students can help ease the difficulty and, in effect, increase engagement. One of these strategies, especially for nonfiction or textbook reading assignments, is to preview the reading and search for background on the topic. 
Depending on the reading and the student, this practice will look different each time, but here are the basics:
Pay attention to the titles, subtitles, headings, captions, photos, bolded vocabulary terms, etc. Students can garner a great deal of what the text will involve by looking at the text features beforehand.

Skim sections of the text to ground

their

reading; this will help orient readers and allow them to plan ahead in terms of seeing how long the reading will be.

For terms or concepts that are totally unfamiliar, students should be encouraged to do a quick

G

oogle search to help ground their understanding of the term, concept, or event.

Jot down questions while previewing; this helps students begin to engage with the text and practice close reading and critical thinking. The goal is to then revisit and answer or follow up on those questions after reading. 
Highlight as you go
Along with previewing as a reading practice to boost engagement and comprehension, highlighting is a common tool for successful readers as well. This practice builds strong, active reading skills and helps visual learners at the same time. Students should be encouraged to mark areas of the text for any of the following purposes:
Highlight words or phrases that connect to vocabulary terms or important concepts from class; this visual helps to engrain definitions and understanding into working memory.

Highlight main points of a section, chapter, or column of text. This way, when students revisit the text, they are able to identify the key points immediately. 

Highlight areas of the text that

they

find confusing or have questions about. This will act as a visual cue to remind students to follow up with the teacher, do a little more research about the specific topic, ask follow-up questions, etc. 
Highlight answers to any of the questions that they asked themselves at the start of the reading; again, this is essentially the foundational skill for active, engaged reading.
https://learningessentialsedu.com/wp-content/uploads/2021/03/Copy-of-remedies-for-reluctant-readers-part-II-linkedin-website.png
322
600
Wendy Taylor
https://learningessentialsedu.com/wp-content/uploads/2021/12/logo.svg
Wendy Taylor
2021-03-27 10:32:00
2021-03-27 10:32:00
Remedies for Reluctant Readers, Part II