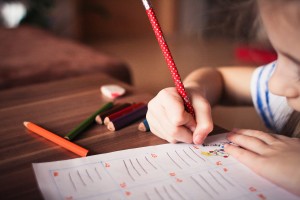 April is Autism Awareness Month. Autism Spectrum Disorder may present itself in many different ways in and out of the classroom. In an effort to raise awareness and support for each and every student, it is important that educators are informed about Autism Spectrum Disorder and learn strategies to help our students feel comfortable and achieve success. With diagnostic data indicating a rising rate of almost 1 in 70 births, it is likely that this information will prove to be helpful in the classroom.
Because treating and managing a child with an autism diagnosis is often stressful and nerve-wracking for parents, it is common for parents to be more involved and hands-on in many aspects of the child's education. Especially when transitioning into a new class or school, parents, too, will likely need some extra TLC and reassurance to ease the stress of acclimating their child into a new environment.
Plan to maintain consistent and positive communication with parents of your students with special needs. Be sure to ask parents about successful strategies that they implement at home. As much as possible, reinforce these practices in your classroom. The more consistency that your students experience, the better. Remember that, as always, parents are your biggest assets when finding ways to best serve your students.
Maintaining a stress-free environment is always the goal. However, this is especially important when considering the needs of a student with an autism diagnosis. Stress, loud noises, commotion, or unexpected changes in the routine can totally throw students for a loop. Students on the spectrum are usually most comfortable when routines are maintained and expectations are met. If you are planning a collaborative group activity, a boisterous lesson, or anything that strays drastically from the norm, consider how your student may react. Being proactive as opposed to reactive can mean the difference between a good day and a bad day for your student.
Plan assignments and activities that generate positive self-esteem and celebrate every student's unique talents. Too often, when we hear of a diagnosis or condition, our minds jump straight to the hurdles—"such and such is more difficult for so-and-so." Instead, consider how to highlight your student's unique strengths and hidden talents. Student choice is the best practice as is, but be sure to keep an open mind and truly tap into the interests of your students with special needs.
Providing encouragement while maintaining your perspective is not always a simple task when dealing with a student's strengths and weaknesses. What we consider to be supporting, praising, or reassuring may actually come across quite differently, depending on a student's social perceptions. Some students with ASD are not comfortable with any sort of recognition or attention—giving this type of attention, no matter how positive, may cause unnecessary distress. It is also possible that constructive criticism or suggestions could be taken more negatively than intended. Thus, we must be cognizant of student sensitivities and preferences when providing praise or suggestions for improvement.  
https://learningessentialsedu.com/wp-content/uploads/2021/12/logo.svg
0
0
Wendy Taylor
https://learningessentialsedu.com/wp-content/uploads/2021/12/logo.svg
Wendy Taylor
2023-04-14 14:11:35
2023-04-14 14:11:35
Autism Awareness Month: In the Classroom