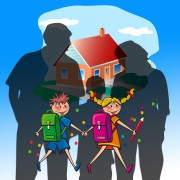 Involved parents are undoubtedly one of the main contributors to a student's academic success. As much as students may not acknowledge it, you parents are very significant to your child's education. We've seen the data–statistics, charts, and graphs about how absent or uninvolved parents result in academically low-achieving children. Of course, there are always exceptions to the rule–students with parents that are disinterested in their schoolwork can still manage to succeed by making academics a priority. Even so, the majority of teachers would attribute student success to a few key things. Parent involvement is one of those major things.
At times, however, the pendulum may swing too far. Overbearing parents that micromanage, handhold, and make excuses on behalf of the child can be as detrimental as the parents who are absent all together. This can be quite the fine line, especially for the major academic transition years when students are entering middle school or high school. Moreover, this is a difficult conversation for teachers and parents to have–no parent wants to be told to "back off." And trust me, no teacher wants to be that messenger either! Below are a few tips on how to loosen the reins while still maintaining involvement in your child's education.
Have a "my job/your job" conversation
One way to lay out the ground rules and expectations of your involvement during the school year is to simply discuss it at the start of the academic year. Talk with your child about when and why you will get involved with your child's teachers. Under what circumstances should your child take the lead in handling a situation? When does it become necessary for parents to step in?
For example, your teenage child should not rely on you to email her teacher about an extension on a project–that is the student's job. Furthermore, while teachers appreciate parental involvement, it is often a welcomed sign of maturity and autonomy when students take initiative to handle a situation with the teacher personally, as opposed to calling on mom or dad. Simply discussing what is and is not your job as the parent sends the message that your child should be in control of his or her academics.
Check-in on vs. Check-up on
Checking-in with your child is less invasive than checking-up on your child. You absolutely can and should contact your child's teacher(s) about grades and behavior whenever necessary–the key word here being necessary. Checking-in implies that you are having a conversation with your child about how he or she can improve. Checking-up on your child implies that the conversation is taking place primarily between parent and teacher–not involving the child.
There are times when the parent and teacher should discuss matters in the absence of the student. But approaching your child first will shed more light on the situation before speaking to the teacher. Again, this is all about responsibility and independence. Parents and teachers can only take a child so far–at some point, it becomes the child's responsibility.
Praise the initiative
Loosening the grip is difficult for both parent and child. Up until this point, the parent has been the caretaker, advocate, cheerleader, homework checker, and teacher-whisperer. As your child is gaining more independence with age, is becomes your job to encourage their self-sufficiency.
Talk to your child about when, why, and how to approach teachers and coaches for extra help. Explain the importance of asking questions in class, seeking help, and emailing teachers for clarity. This can be scary, especially for those "green" middle school years. In elementary school, students had a comfort level with the one teacher that instructs all content areas. Now, they have to learn a whole new set of faces, personalities, and procedures for the many classes. This can be downright intimidating, but remind your child of this: teachers are just people who want to see them succeed.
Encourage your child to build a relationship with teachers so that they'll feel more comfortable seeking help when necessary. Acknowledge a job well-done when your child meets with or emails a teacher herself. Discuss the positive feeling that comes when your child shows responsibility and independence.
Too much of a good thing
Your child will always be your baby–there is no denying that. However, as difficult as it may be, parents must learn to pass responsibility on to the student at some point. Children who have been micromanaged and hand-held throughout their academic years will suffer later on. These students likely expect things to come easily to them because "mom and dad always took care of it." These students may also lack social tact because they never had to speak for themselves. This constant academic "spoon feeding" will result in a student that is dependent on someone else to clean up messes and solve problems.
The time will come when mom and dad will (hopefully) not be able to contact the college professors about how their child can improve a grade. There are no parent-professor conferences to discuss extra-credit opportunities. Encouraging academic autonomy now will serve your child well through all levels of education–and beyond.
https://learningessentialsedu.com/wp-content/uploads/2021/12/logo.svg
0
0
Wendy Taylor
https://learningessentialsedu.com/wp-content/uploads/2021/12/logo.svg
Wendy Taylor
2016-02-13 16:59:21
2016-02-13 16:59:21
Parent Involvement: How Much is Too Much?