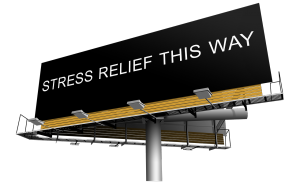 April is National Stress Awareness Month. Stress is an unfortunate aspect of our everyday lives that everyone experiences from time to time. Truth be told, even simply thinking about how stressed we are can sometimes result in even more stress. Perhaps the most troubling aspect of stress is the fact that we should expect to experience it at any age. So, how can we combat this culprit without adding to the stress? How can we stop stressing about stress? Take a look below at some tried-and-true methods of managing your day-to-day stress.
Get a healthy handle on the family's eating and exercise routines.
Too often, our schedules are so hectic that there are not enough hours in the day to accomplish everything. With all of the hustle and bustle, regular exercise and healthy eating habits are left by the wayside. Instead, we may opt for the "quick-fix" dinner options and neglect the gym all together. The unhealthy food and lack of exercise will undoubtedly leave the family feeling sluggish, unmotivated, and yes—stressed. Healthy eating jumpstarts motivation and provides the body with nutritious energy. This energy then motivates us to get out and get moving. Exercise is a proven method of managing stress because it releases endorphins—the body's natural "feel-good" chemicals. Therefore, daily cardio is not only a method of fitness and weight management, but it is also proven to greatly reduce stress.
Partake in some spring cleaning to reduce the clutter.
April is the perfect month to handle the spring cleaning that you've been putting off. Studies show that unkempt or messy environments can contribute to a person's stress level.  Something as simple as reorganizing your closet can alleviate unnecessary stress and anxiety. Not only will the lack of clutter and mess make you feel better, but it will also allow your morning routine to progress a little smoother.  
Get the family outside.
Now that winter has passed and the weather is improving, it's time to enjoy the outdoors and get some fresh air. While you may not suffer from full-blown seasonal affective disorder, we can all relate to the notion of the "winter-time blues." In fact, recent research has shown a strong link between vitamin D deficiency and symptoms of depression. This means that sunshine, one of the body's main sources of vitamin D, can greatly improve mood by reducing stress.
Focus on the present.
Too often we dwell on the past or future. We perseverate, replaying our thoughts over and over again. We agonize over what we could have done differently, or what we must do next time. Instead of indulging in this act of self-torment, focus only on what you can control right now. It only compounds stress when we allow ourselves to worry about things that are out of our hands. Manage what you are able, to the best of your ability, and let the rest be. Of course, this practice is much easier said than done. However, it is helpful to take a moment, take yourself off of the worry-wheel, and focus solely on what is in front of you.
https://learningessentialsedu.com/wp-content/uploads/2021/12/logo.svg
0
0
Wendy Taylor
https://learningessentialsedu.com/wp-content/uploads/2021/12/logo.svg
Wendy Taylor
2016-04-21 09:37:20
2016-04-21 09:37:20
National Stress Awareness Month