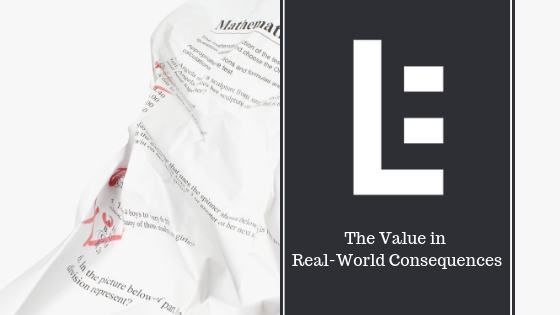 Many school policies and protocols today are not exactly reflective of the real world environment for which we are trying to prepare students. While these methods are put into place to encourage student success, the flip side of these practices can result in inadvertently fostering a level of helplessness, complacency, dependence, and excuses. How, then, can we ensure that students are well-supported, yet held accountable at the same time? The balancing act can be tedious, but there are some strategies that parents and teachers can utilize to prepare children and teens for the REAL WORLD.
Expect and accept failure, but learn from it
It is important that students be reminded of the very real likelihood that they will encounter failure in their adult lives—and probably more than a few times. They must be ready to handle challenges, setbacks, and obstacles in order to learn how to mediate those hurdles. A great student and future contributing member of society, no matter his or her career path, will be able to problem-solve. However, if problems are always solved for them, they will struggle to acquire this skill.
Parents and teachers can:
Encourage students to follow up directly with teachers on assignments that did not go so well. If the grade is dreadful, instead of balling the paper up and throwing it away in frustration, provide students with time to conference about that specific essay or exam.
Utilize opportunities for error analysis by providing specific feedback and areas of need. This way, students can use failure as a learning opportunity—a moment for growth as opposed to just disappointment.
Remind children and teens that the grade is just one measure of their learning; it does not indicate their total level of knowledge or ability. Instead of dwelling on the percentage, use this as a reminder of skills that still need to be practiced or acquired.
Get acquainted with "One and Done"
Reassessments, rewrites, resubmissions, etc., are a norm, especially for Montgomery County Public Schools. While the sentiment behind such policies is beneficial—we want students to correct mistakes, participate in reteaching opportunities, and make additional attempts to demonstrate their learning. However, there are several holes in the practice when students a) expect a second opportunity even before submitting the first attempt, and b) receive countless opportunities to increase the grade with little focus on the actual learning.
Parents and teachers can:
Set boundaries and limits when it comes to reassessment opportunities. Allow for 1-2 major reassessments per quarter only. Otherwise, excluding extenuating circumstances, hold to the "one and done" policy. With fewer chances to show what they know, students will be motivated to do their best the first time.
Help teach students how to prioritize steps and manage time for long-term assignments and final exams.
Emphasize chunking and proactive planning to help students tackle complex or lengthy tasks with confidence. Instead of cramming with the expectation that they'll be able to try again, students will learn how to organize themselves to succeed on the task the first time.
It is okay to remind students flat-out: you will rarely get a second opportunity when it comes to college and career scenarios. This is why it is best to always try your best.
Hold firmly to due dates and deadlines
Another key aspect of the real world that children and teens may be missing from their classroom experiences is the importance of meeting a deadline. It has gotten to the point that some teachers will accept any work, no matter how late, to ensure that students receive credit for completed or partially completed work. This does not foster punctual planning or accountability.
Teachers should try their best to stick to deadlines once they have been set. Of course, if the entire class needs additional time for a task, it is necessary to make adjustments. However, extenuating circumstances aside, students should be ready to submit their work in a timely fashion.
Create, explain, and adhere to a late grade policy. This way, students know exactly what the penalties will be if they submit late work. Explain to them that, much like a credit card bill, late submissions are subject to penalties, and American Express is not going to care that your internet was slow if you failed to pay your bill.
Clearly explain the 50% rule to both parents and students
MCPS follows the 50% rule for grading, meaning that, once attempted, a student cannot earn anything less than a 50% on an assignment, quiz, essay, test, etc. While this is the county policy, it is not reflective at all of the real world—we simply do not receive credit for a job started or somewhat attempted. We receive credit for a job well done.
Explain to parents and students that the 50% rule means a "genuine attempt" at the task or assignment; it does not mean that a child can put their name on a paper and automatically receive half credit.
As opposed to accepting an attempted assignment, provide another option for students to earn more credit. Explain to students that they can take the 50 by coming in during lunch for an additional work period. This teaches students that success cannot be achieved without effort and that there will be no "participation trophies" in college or the workplace.
Critical Thinking Skills as an Approach to Behaviors at Home
Especially as children become stir crazy cooped up inside during the winter months, behaviors can begin to fall out of whack. Perhaps routines have been off, bedtimes have been extended, or one too many holiday desserts has sent someone into a tizzy. Whatever the case may be, we can always appreciate a fresh approach to dealing with misbehaviors. If time-outs, confiscated iPads, or groundings are wearing on the family, a different approach could be beneficial. With a little patience, ok, maybe a lot of patience, conversations where parents prompt children to think critically about their behaviors can change the way in which children see misbehaviors all together.
Critical thinking encompasses a complex set of higher order thinking skills. As opposed to memorization or fact-based knowledge, critical thinking includes relational, analytical, reflective, argumentative, or systematic thought processes. It is not so much what you know or think, but why or how you know and think that way. Because critical thinking often involves aspects of perspectives and/or decision making, these strategies can be the perfect platform for dealing with behavior management.
When siblings or peers argue:
Parents can mediate by asking questions about how an argument began. By taking a moment for reflective thinking, children begin to see how a small issue may have escalated or blown out of proportion.
If children are calling one another names, diffuse the situation by talking about how these are opinions; they are not based on facts. Just because someone calls your stupid certainly does not mean that you are stupid. These words hurt, of course, but ask your child why this person's cruelness affects them; do you value this peer's hurtful opinion?
Encourage siblings to take the other's perspective for a moment. Ask why she thinks her brother acted that way towards her. Why might his friend have behaved this way? The key is, not so much in finding the exact purpose, but instead taking a moment to consider where that other person could be coming from.
Ask about alternative responses for next time. Is there a better option for dealing with a conflict like this in the future? What is the best way to respond to your little brother next time this happens? What are we not going to do again, and why?
When "so-and-so's parents" let them do A, B, or C:
A rational explanation and some critical thinking can go a long way when children are upset over things that other kids are allowed to do. Calmly explain that everyone's family operates differently, and so-and-so might be able to stay up until 10 pm simply because their parents work late… Or perhaps so-and-so sleeps in and rushes out the door every morning…Or it is possible that so-and-so feels like a walking zombie at the school most days. Whatever the scenario, remind your child that there are reasons behind your household routines—and another family's routine is frankly irrelevant.
Discuss the implications of these decisions. If a friend is allowed to see R-rated movies, but your child is not, explain how an inappropriate movie could make them scared, uncomfortable, worried, restless, sleepless, and ultimately cranky or sluggish at school. Help them connect the dots between the rules and their purposes so that they see these guidelines as meaningful, instead of arbitrary.
Ask your child flat-out: "Besides the fact that so-and-so is allowed, do you have a valid reason or justification for changing the rules this time?" This forces children and teens to justify or support their stance with effective reasoning.
When frustrations boil over:
Encourage children to take a beat to evaluate the situation—what can we do to potentially solve this problem or ease this frustration? Think about why this particular task is causing so much frustration and use that as a new point of entry.
If math homework is about to cause a fit, take a brain break, walk away from the math packet, and cool down. Then, approach the problem with a cool head and fresh viewpoint. Think about it in "grand scheme of things" terms—is this something that is going to keep me up all night or ruin my month? Chances are, this meltdown will be a nonissue in a matter of hours.
Help them break down the problem or situation and tackle the parts that they feel confident about. Remind them to apply what they know and then use those methods to chip away at the task.
If the task is still complicated, encourage children to write down exactly what it is that they don't know or are missing—what would they need to solve this problem or complete this assignment?
Apply the skill to a simpler problem and use that momentum to approach the more complex problem. Often times, in simplifying a question, we are better able to see aspects of the problem that we may have missed due to the complexity.
When problems are on the cusp or horizon:
Call it psychic power or paternal/maternal observations, but parents are often able to tell when an issue, conflict, or temper is about to erupt. Teach children this reflective skill by modeling how to gauge one's feelings and emotions. This helps to avoid or circumvent conflicts or attitudes that could be problematic.
Discuss the concept of foresight and how such anticipation can help in our decision making. Remind children that everything they do has an impact or effect on those around them.
In considering these implications, children are able to pause to consider the ripple effect that any decision might have. The ability to contemplate and deliberate based on past experiences and logical reasoning allows children to make more informed choices, and thus behave in more considerate or responsible ways.
https://learningessentialsedu.com/wp-content/uploads/2018/12/The-Value-in-Real-World-Consequences.png
315
560
Wendy Taylor
https://learningessentialsedu.com/wp-content/uploads/2021/12/logo.svg
Wendy Taylor
2018-12-20 19:10:08
2018-12-20 19:10:08
The Value in Real-World Consequences