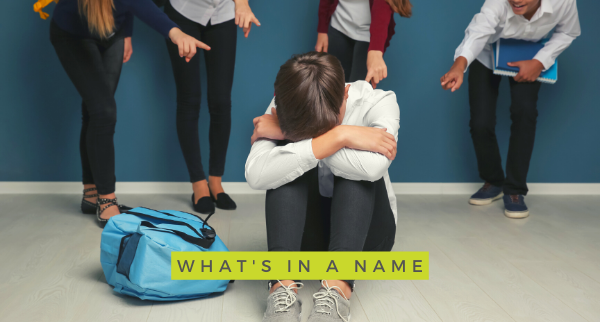 No, we are not talking Shakespeare. We are instead tackling the distasteful tendency to name-call, which is a behavior that nearly all parents and educators have to deal with at some point. In confronting this obnoxious behavior, some parents might believe that they are making a mountain out of a molehill. Some common instincts or remarks are: What's the big deal, anyway? Everyone gets called names at times. It's just a little harmless teasing. Follow the "sticks and stones" mindset and you'll be fine. While these reactions to name-calling do not intend to do harm, the impact may be a different story. 
Intent vs. Impact
For middle and high school age groups, a teen's level of social-emotional intelligence has matured enough to have a serious discussion about intent versus impact. This distinction helps adolescents realize that their words have power, whether they are wielding them maliciously or not. Parents and educators can help clarify this with open and honest conversations. For instance, today, we unfortunately see and hear the term "gay" being thrown around as an insult or put-down. While this is nothing new, and may be intended as a harmless joke between friends, the impact could be devastating. 
If you hear your teen throw terms or slurs around in jest, without snapping or placing blame, ask your child the following questions:
What do you mean when you call someone

gay

?

Is it a dig at or comment about their sexuality? Or are you actually outting your friend?

If neither of those was the intent, what statement are you inadvertently making when you use "gay" as an insult?

Do you think being gay warrants random insults?

What if your friend actually is struggling with his/her sexuality? What message are you sending him/her when you use it as a slur? 

Think about the LGBTQ+ community; how are your insults or jokes inadvertently hurting or putting down that entire community? Were you aware of this when you decided to name-call?
A predictable response from many teens is the obligatory eye-roll or a retort such as, "I was just kidding, it's just a joke, relax." To which a simple response might be, "A joke is meant to be funny; there is nothing funny about a slur that insults an entire group of people." Again, the purpose of this type of dialogue is to demonstrate how "just a joke" can end up having a much greater impact, unintentional or not. Use this talk as a springboard to discuss other related issues, such as current news stories, social media posts, text chains, and any other forms of communication. In this day and age, and with everything going on in the world, children need to know that what they say (or type) can and likely will come back to haunt them in the future. Politicians, celebrities, and other adults behaving badly should not give the green light to teens to engage in nasty, bullying behavior.
Finally, an additional point to make when addressing this issue with adolescents is to talk openly about how their use of slurs or offensive generalizations makes them look to the people around them. When name-calling or jokingly humiliating a friend in public, people around you may not know that you are kidding. If nothing else, this is simply a bad look and may cause others to look down upon them for their crass words and behavior.
https://learningessentialsedu.com/wp-content/uploads/2021/04/Copy-of-whats-in-a-name-socials-linkedin.png
322
600
Wendy Taylor
https://learningessentialsedu.com/wp-content/uploads/2021/12/logo.svg
Wendy Taylor
2021-04-14 18:31:17
2021-04-14 18:31:38
What's in a Name?