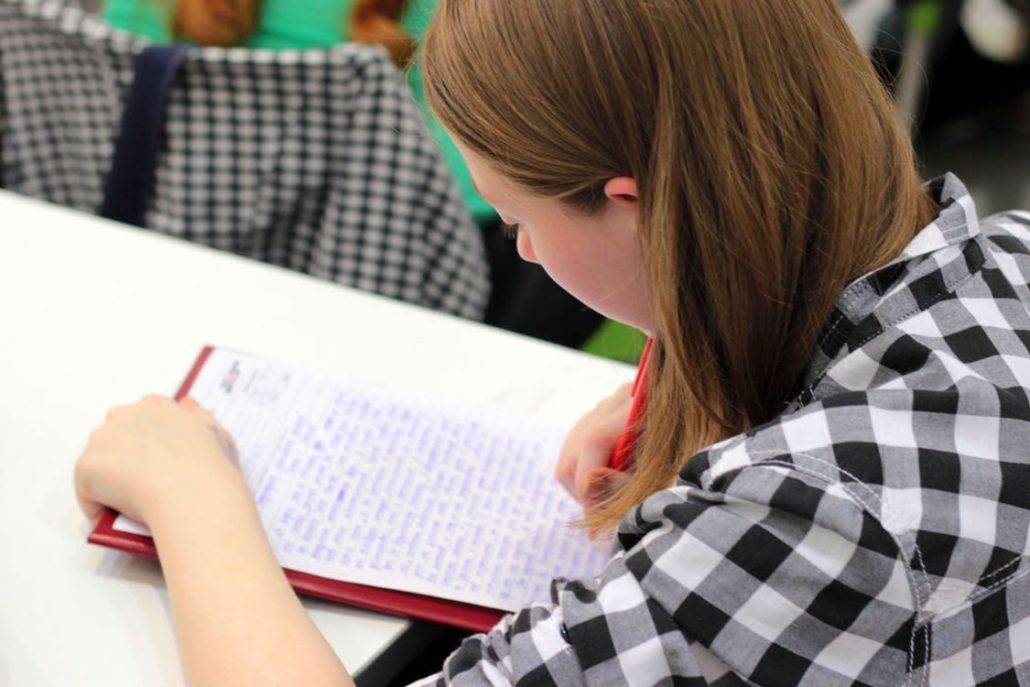 As we have discussed, homework time can be innately chaotic for families, especially when several children need parental guidance at once. Since we really can only be in one place at one time, it helps to have a grab bag of possible solutions for the nights when everyone needs homework help.
In addition to the tips in the previous blog, there are more tricks of the trade to help monitor and manage homework for multiple children under one roof.
Use all available downtime to your advantage. Just as we suggested utilizing alternative times for homework completion, such as a morning routine for your early risers, other downtime can and should also be utilized. For instance, elementary schoolers can squeeze in a little more study time on the commute to school. Whether in the car or on the bus, encourage them to bring multiplication/division flashcards or spelling words along for the drive. Not only does this practice provide a pocket of extra time for review, but the process also helps to boost confidence before going in for a quiz or assessment.
Use class time wisely. In addition to the car ride to and from school, encourage your children to make good use of class time. Often times, teachers will provide anywhere from 5-15 minutes at the close of the lesson for students to begin that night's assignment. This benefits the teacher, in that she is able to gauge who may have struggled with the day's objective, or who may have missed important directions or notes during the lesson. This is also a benefit for students, as it allows them to get a jumpstart on or even complete their homework in class. Be sure to stress that your child should be sure to focus on instruction first—homework should be completed only if and when the teacher has allowed the class to do so.
Take advantage of after school help. Another option is to encourage your child to attend after school help sessions on a weeknight. Of course, with athletics and other extracurricular obligations, this could be difficult to manage. However, there are several benefits to the after school homework organizations run by the schools. First, many children are more patient or willing when one of their teachers is providing the homework help, as opposed to a parent. Sometimes, as much as we would not like to admit it, homework becomes a losing battle of tears at the kitchen table. The teacher acts as the mediator of the work, leaving parents free of the stressful battle.
Additionally, since children will be getting help from his/her teacher at the after school work sessions, they will essentially receive additional one-on-one instruction with the teacher who knows exactly how the assignment should be completed. Finally, after school homework programs often provide transportation home via an activity bus. Therefore, the work session can serve as an extended school day, but with no inconvenience to anyone's schedule.  
Set a few ground rules for your children when they are completing homework assignments. No matter the time of day, ensure that children and teens take a break if and when frustrations flare. Homework is stressful as is, but when the tears or tempers start, it becomes a near impossibility. Instead of insisting on working through the frustration, suggest some cool off time. Anything from 5-10 minutes can help bring down a child's stress level and allow everyone to get back into a productive mode. Additionally, be sure to enforce time parameters for help. For instance, tell your teen that there will be no late-night, last-minute shopping sprees if he decides that he needs materials for a science project the night before it is due. Similarly, make sure they know to ask for editing or proofreading help well before the paper is to be due. This alleviates any stress from having to cram in a last-minutes work session.
https://learningessentialsedu.com/wp-content/uploads/2018/07/learning-essentials-header-logo2.png
0
0
Wendy Taylor
https://learningessentialsedu.com/wp-content/uploads/2018/07/learning-essentials-header-logo2.png
Wendy Taylor
2017-10-17 17:33:21
2017-10-17 17:33:21
Homework Help for Families with Several School-Aged Children: Pt. II