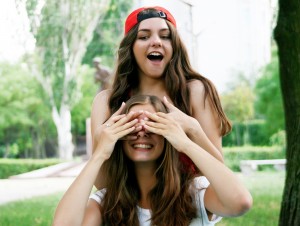 Much like how we adults can relate to those cherished days at the start of summer, your child is undoubtedly thrilled about the beginning of summer vacation. What's not to love about the freedom, festivities, and full-on summer fun that the end of the school year brings? With the school-day routines shifting to a more relaxed summer schedule, it is important to consider a few different challenges that may arise once school has ended.
One of the biggest challenges when transitioning from the school schedule to the summer schedule is the fact that children may not have anticipated the hiatus from their friends. Sure, they know that summer means no more school. However, what they may have neglected to consider is the fact that no school means no time with school friends.
One of the greatest things about school, for parents and children alike, is the social factor. While children are busy learning in class, they are also subconsciously developing friendships, interests, and social skills. Socializing with peers on a regular basis, all day long, is sometimes taken for granted—children don't realize how much time they spend around peers while in school. Your child might write in a friend's yearbook to, "Have a great summer" all the while not realizing that they may not see these friends for a solid amount of time. That said, it is important to consider how your child can keep in touch with friends when school lets out.
Of course, camps, days at the pool, and parties over the summer allow children time to see their friends, but what about those friends that may not be included in the parent rolodex of playdates? If your child has friends from school that he or she is worried about not seeing over the summer, there are ways to help them keep in touch.
Send mail—actual mail. In the time of snapchat, twitter, and texting, it is likely that children have not been mailing letters on a regular basis. All the more reason to break out the stationery! Letter-writing is not only a great way to maintain communication, but it acts as an incognito writing practice, as well! If away on vacation or at sleepaway camp, help your child write and mail postcards to friends.
Host a sleepover or backyard campout. Sleepovers are some of the best parts of summer. Help your child continue to preserve friendships made at school by helping to cultivate the friendship outside of school. Set up a tent in the backyard or roll out some sleeping bags on the patio.
Present your child with opportunities for their friends to get together. The younger children are, the more difficult it is for them to arrange time to hang out with friends on their own. That said, parents are key when arranging social gatherings over the summer. Do a little research about family-friendly summer activities in your area. Then invite your child's friends and their families. Perhaps it's a concert in the park, a trip to the zoo, or even just an afternoon movie on a rainy day—no matter the activity, your child will be thrilled to get to see their school friends outside of school.
Encourage your child to make new friends, in addition to the current friends. As adults, we know that with each new experience comes an opportunity to meet new people. This is true for children, too. As difficult as it may be, especially for shy kiddos, provide your child with opportunities to interact with new children in their age group. Perhaps this involves taking a class, joining a summer sports team, or attending a new day-camp. The more opportunities your child has to explore and meet new peers, the better. And remember, making new friends does not take anything away from friendships that already exist. Teach your child the common adage, "Make new friends, but keep the old. One is silver, the other gold."  
https://learningessentialsedu.com/wp-content/uploads/2021/12/logo.svg
0
0
Wendy Taylor
https://learningessentialsedu.com/wp-content/uploads/2021/12/logo.svg
Wendy Taylor
2016-06-21 17:19:37
2016-06-21 17:19:37
Cultivating Friendships During the Summer Break