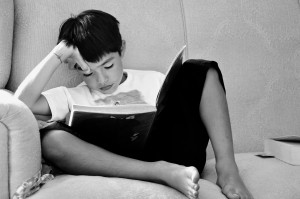 Merriam-Webster defines comprehension as simply, "the ability to understand." Sounds simple enough, right?
The issue with checking for comprehension, especially at the elementary level, is that it often looks different from child to child. One child's method of comprehending something may be completely different from that of another. To even further complicate the concept, as the adage goes, children don't know what they don't know. Teaching your child to self-check for comprehension is a valuable asset when it comes to executive functioning skills. Performing a self-check for comprehension is also a necessary life skill that never becomes irrelevant. Whether in high school, college, or in the workforce, people always need to be able to question their own ability to understand something. Here are some Do and Don't tips when it comes to encouraging the comprehension check with your elementary schooler:
Do
–  Ask specific questions about your child's day. Be ready for follow up questions, as well. This is something that parents do regularly anyway, but the difference is in how you ask the questions. Be sure to ask about specific events, classes, or activities from the day. This will cause your child to reflect on his or her day and respond in detail. The ability to recall the day's key events not only checks for memory and comprehension, but it also provides information about what is most important or memorable in your child's perspective.
–  Subtly model the process of checking for one's own comprehension. Perhaps when cooking dinner, read the recipe aloud in front of your child. Ask him or her to explain something that seems "confusing" to you. Model the process by which you reread, ask questions, and rephrase instructions. Demonstrations like this show children how to recognize when they are experiencing confusion. This also shows your child that comprehension or basic understanding plays a huge role in the real world.
–  Create a bedtime routine involving "book talks." The bedtime story routine is beneficial in and of itself; it is also a valuable time for connecting with your child. In addition to benefiting reading skills, a story presents the perfect opportunity for your child to self-check. Prompt them by asking questions like, "Who was your favorite character?" "Why or how do you relate to that character?" "Can you believe it ended like that?" "I was confused by this part; do you know what was happening here?"
Don't
–  Simply ask, "How was your day?" Of course, this is a perfectly normal question that we have all asked and answered on countless occasions. There is nothing wrong with starting there. However, this sort of question allows for a weak, general response, one that lacks detail and any sincere reflection on the day's events. Perhaps ask for a high point and low point; what was the best part of your day? Now tell me about the worst part of your day. Again, this prompts children to get specific about what they can recall.
–  Over-sell it. Checking for comprehension is a skill that should eventually become natural as children progress through their education. A little prompting is helpful; yet, blatant practices will intimidate, confuse, or even discourage a child when it comes to self-checking. Again, subtly implement or model different uses for comprehension. The more routinely natural the practice becomes, the easier your elementary schooler will be able to grasp it.
–  Make your child write the information down. The idea of the bedtime story is meant to be enjoyable and relaxing. Comprehending the story is simply another layer of enjoyment. Forcing your child to write or formally respond is in no way beneficial to his or her comprehension. If they can verbally articulate what happened in the story, then they comprehended it sufficiently.
https://learningessentialsedu.com/wp-content/uploads/2021/12/logo.svg
0
0
Wendy Taylor
https://learningessentialsedu.com/wp-content/uploads/2021/12/logo.svg
Wendy Taylor
2016-10-11 16:43:57
2016-10-11 16:43:57
How-to Check for Comprehension: Elementary Grades