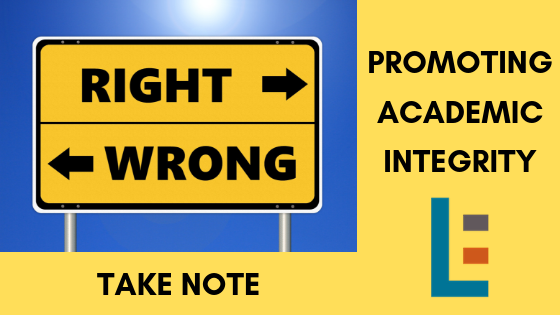 With the recent embarrassing mess that is the college admissions scandal, also known as "Operation Varsity Blues,"  today's youth are getting a front row seat to watch the age-old adage come to life: cheaters never win. With high profile celebrities, executives, and elite colleges and universities involved, a spotlight has now landed on the intersection of where wealth and power meet educational opportunities. Common questions and considerations naturally arise when scandals surrounding the misuse of power and money are brought to light, especially in the realm of education—which some consider to be the "great equalizer." All in all, most people simply wonder What happened to academic integrity and the value of achievements based on merit?
Of course, this current admissions scandal involves academic dishonesty on a grand scale, but anyone who tries to dupe the educational system likely has the same motive—that is, the need to avoid any potential failures. But what can we do to combat this urge to succeed and prove ourselves at any cost?
Parents and teachers should stress the importance of mastery learning, as opposed to performance learning. Mastery learning puts knowledge, growth, and personal improvement on a pedestal. Conversely, performance learning is driven by grades, points, levels, and rank. Essentially, we're looking at intrinsic motivation (mastery) vs. extrinsic motivation (performance). While there is nothing wrong with the desire to prove oneself, the focus for performance learners becomes, "How can I make sure that I look the best, score the highest, and outrank my competitors/peers?" In this type of surface-level learning, knowledge isn't the prize; the status acquainted with being "the best" becomes the end goal. Instead, parents and educators can take the following steps:

To encourage mastery learning, parents should talk with children and teens about how learning can have a profound and vital impact on their future. Talk about the opportunities and doors that education can open.
Explain how learning another language isn't simply about AP credits or raising one's GPA. Another language allows you to connect with others, verbally and culturally. As a skill, bilingualism is an asset in any workplace. Speaking another language also becomes a practical skill when travelling, either for work or pleasure.
Discuss how certain knowledge, skills, and abilities can translate into other areas of expertise. For instance, the dexterity and nimbleness that a surgeon's job requires could be developed or improved by learning to play a string instrument or painting/drawing. Attorneys, researchers, and corporate executives will need to write proficiently for many different purposes. Seeing how this knowledge is applicable to a future career helps students to invest in what they are learning.
Present the "why" of learning to show that there is a greater purpose for these academic lessons and methods. Why do we learn about women's suffrage, the Holocaust, and the civil rights movement? It's not merely to ace the history exam at the end of the semester. We may not remember the exact dates or famous landmarks involved, but the more significant take-away comes from the fact that, to know better is to do better. Without knowledge of the past, we cannot grow from our mistakes.

Teachers and parents can hone in on this mindset by discussing the significance of the information that we learn in school. Where would we be without the people that stood up against injustice? What would we be missing out on if people hadn't taken risks? What advancements have helped to improve our planet, our daily endeavors, life-expectancy, etc.? To cheat on an exam about the Constitution is to rob yourself of this important knowledge regarding your guaranteed rights.
Even for the younger learners, it is important that students know how they will rely on these skills later on. For instance, my multiplication flashcards were the bane of my existence in elementary school, but had I known how much I'd rely on that basic skill, for everything from cooking and grocery shopping, to choosing credit card options and monthly budgeting, I'd be much more inclined to study intently before peeking at a peer's quiz sheet.
Discuss what plagiarism really means, specifically highlighting the fact that this is someone's intellectual property.

Students are probably aware of their school's or district's policy on plagiarism. Depending on how certain schools wish to handle it, students who plagiarize could face disciplinary action ranging from a failing grade to expulsion. However, in college, plagiarism becomes a much bigger offense. Let them know that even inadvertent plagiarism can be a huge issue for universities.
Parents and educators should be sure to talk to high schoolers about the serious consequences that they may face if they plagiarize any part of a college assignment. Students who plagiarize at the college level will face several consequences. They may be forced to drop the course and take it again, which essentially means paying to take it twice. Colleges may also decide to review the student's academic record, including previous work and essays. Previous papers might be scrutinized to see if this level of academic dishonesty is a pattern. Many colleges dismiss the student all together—no money back guarantee!
Talk with students about how, just like movies, music, and art are protected under copyright laws, published material is protected as well. If someone plagiarizes another's material, then happens to benefit financially from that plagiarized work, legal issues may ensue. Copyright infringement can result in damages, penalties, and even jail time.
https://learningessentialsedu.com/wp-content/uploads/2019/04/Promoting-Academic-Integrity.png
315
560
Wendy Taylor
https://learningessentialsedu.com/wp-content/uploads/2021/12/logo.svg
Wendy Taylor
2019-04-18 16:53:28
2019-04-18 16:53:28
Promoting Academic Integrity