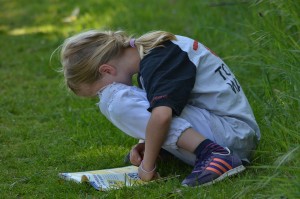 Reading and writing are likely the last things on your child's mind as the summer kicks off—and this is nothing new. The battle of the books has been going on forever. Even I, an English literature major and secondary English teacher, was not fond of reading when I was growing up. It wasn't until college that I found my love of books. When there are countless activities that are undoubtedly deemed more "fun" than reading and writing, it's no wonder why kids gripe. And yet, the benefits of summer reading cannot be denied. Rather than harping on the idea and shoving a book into your child's hands, take a look at some subtler ways to encourage literacy this summer.  
Embrace the audio book. Listening to audiobooks is a proven method to encourage reluctant readers. Especially if your family is hitting the road for vacation, an audiobook is a great way to get your child reading for pleasure. While some argue that listening to books on tape is not actively reading, this is far from true. The audiobook is simply a different means of comprehending a text. While listening, your child is still actively engaging with the text by following the plot, analyzing the characters, and making inferences and predictions. Furthermore, most audiobooks have renowned readers that provide entertaining renditions of the different characters, keeping even the most reluctant reader engaged.
Lead by example. With constant technological stimulation around the house, it can be difficult to peddle reading as a leisure activity. However, showing your own interest in literature can be a major influence on your child's own perception of reading for pleasure. One of my favorite things to do when a summer thunderstorm strikes is to pick up a book. Make an experience out of the act of reading for pleasure. First, make sure to silence cell phones, shut down laptops, and turn off the television. Open the windows to allow the sound of the storm to set a relaxing ambiance. Put on some comfy clothes and curl up on the couch with your current read. By showing your child how books can provide a different kind of entertainment, a more relaxing form, he or she may be more inclined to partake in a leisurely afternoon of literature.
Think outside the book. Sure, reading books is the ultimate goal for parents of reluctant readers. But reading materials can take many forms. If your child enjoys sports, cooking, or video games, provide them with materials that revolve around such topics. Sports articles, cookbooks, and even video game blogs allow unenthusiastic readers to brush up on their favorite topics. Even try an unorthodox method of using reading as an incentive. For instance, when choosing a take-out restaurant, allow your child to choose the place, but only after reading the reviews online. Perhaps you offer your child a day-trip to the location of their choice. However, the catch is he or she must read up on activities to do in the area. Check out local live music opportunities. Pick a family-friendly artist and ask your child to read a few song lyrics before seeing the live show.
By keeping these tips in mind, you, too, can call a truce to the battle of the books this summer!
https://learningessentialsedu.com/wp-content/uploads/2021/12/logo.svg
0
0
Wendy Taylor
https://learningessentialsedu.com/wp-content/uploads/2021/12/logo.svg
Wendy Taylor
2022-06-14 08:31:25
2022-06-14 08:31:38
Summer Learning: Inspire Summer Reading