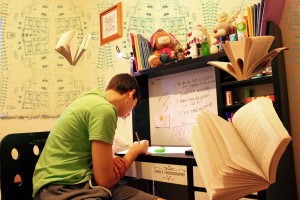 Writing is arguably one of the most beneficial skills taught in the academic realm. Since strong writing abilities are valuable in every content area and career down the road, mastery of this skill is essential. As with most undertakings, practice is key to developing a student's writing—the more a child writes, the better that child will progress as he advances through his education. Once in high school, students are expected to have mastered writing concepts such as organization, mechanics, and varied sentence structure.
At the high school level, the expectations for writing tasks are elevated. It is assumed that students have a proficient grasp on the basics and are now prepared to tackle concepts such as writing for a specific audience and maintaining tone and fluidity. These concepts are touched upon in the middle grades; however, they really become the focus of higher level academic writing when assignments are required to serve a specific purpose.
No matter the content area, secondary level writing assignments involve persuasive, argumentative, and expository writing techniques. From the chemistry lab to the AP government classroom, students will be required to juggle and synthesize many small parts to compose a fluid paper. Some of these writing skills include:
Stating a claim

Supporting that claim with clear evidence and/or research

Providing analysis of the evidence (i.e. how does the research support your claim?)

Embedding

quotations

Paraphrasing or making inferences from direct quotations

Drawing the argument to a final conclusion  
Considering the number of key components involved, as well as the high level thinking skills required to accomplish these components, it is no wonder that writing at the high school level can be stressful and strenuous. Here are a few helpful tips from the teacher to avoid future headaches with high school writing.
Utilize the organizer. While graphic organizers are sometimes viewed as elementary tools, high schoolers and college students can greatly benefit from an outline. Of course, these outlines and organizers will not always be provided by the teacher—students will have to do the prewriting legwork. The extra step may deter your high schooler at first, especially those students who prefer to cut corners. However, an outline is a proven strategy to ensure that a large writing assignment is organized, cohesive, and complete. The outline also allows for students to see that they have gathered all of the essential pieces before beginning the writing process. Thus, an outline will save your high schooler time and hassle in the end.
Read examples and samples of similar writing pieces. This is especially helpful when a section of the assignment or essay is more complex, like parenthetical documentation. Viewing samples of how other writers have constructed these components provides students with additional help, almost like a step-by-step guide.
Be sure to proofread. Again, high schoolers who are reluctant writers to begin with will likely shy away from the editing process. However, rereading written work aloud is the only way to ensure that the writing flows, maintains clarity, and adheres to the claim throughout. This fluidity piece is essential for secondary writing assignments.
Use the rubric to assess the writing before submitting. This additional step is yet another strategy that many students choose to disregard. However, "grading" themselves before submitting a paper allows students to look at the writing from another angle. Since the rubric is created by the teacher, and will be used to assess the writing piece, it only makes sense for high schoolers to perform a self-check of the assignment according to the criteria.  
While high schoolers may be loathe to add any more steps to their writing assignment, these strategies will help to focus their efforts and ease them into the writing process. And, best of all, these strategies can help them to enhance their written work!
https://learningessentialsedu.com/wp-content/uploads/2021/12/logo.svg
0
0
Wendy Taylor
https://learningessentialsedu.com/wp-content/uploads/2021/12/logo.svg
Wendy Taylor
2016-09-08 12:32:35
2016-09-08 12:32:35
Writing a Paragraph: High School