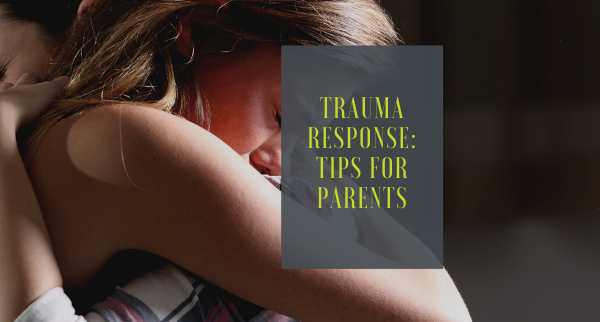 Part of an educator's job is to recognize and help mediate potential trauma that a student might be dealing with. Of course, guidance counselors are much more equipped when it comes to trauma response for children and teens, but it is still something that we unfortunately see in the classroom on a regular basis. With many students now attending classes virtually, it is more important than ever that parents also be able to recognize the signs of potential trauma and respond supportively.
One major takeaway for parents is to remember that every child reacts differently to trauma or traumatic experiences. Furthermore, what might be considered a traumatic event for one child may not be as significant or impactful to a sibling or close friend. Therefore, it is important for parents to really tune in to what children are experiencing, even if they seem "fine" with a recent traumatic experience or event.
The response to trauma can occur anytime—it might involve a bicycle accident, parent separation or divorce, loss of a beloved pet, or even a current event witnessed in the news. In the same way that kids react differently to trauma, some children experience trauma right away, while others do not show any sign of distress until a bit of time has passed. This is why it is important for parents to stay acutely aware of any emotional or behavioral changes that take place. Just because a child seems fine in the immediate aftermath, it does not mean that he or she will avoid the impact of traumatic events down the line. For some children or teens, it could be days, weeks, or months before they begin to exhibit signs of trauma. 
In addition to maintaining vigilance and awareness after a traumatic event, parents should also be cognizant of their own responses and reactions. De-escalation should be a parent's immediate response. Children are very much aware of stresses in their environment, so when parents respond calmly, they tend to feel at least somewhat more at ease. This is especially true for youngsters—they tend to follow mom and dad's lead. 
If a child has experienced a recent traumatic event, parents should make a point to do the following:
Encourage

their

child to express whatever emotions he might be feeling—this is not the time to hold it in or retreat. Explain that there is no shame in being sad, scared, confused, etc.

Answer

her

questions and explain the situation if

she

asks, but always lead with the fact that

she and the

family are safe and secure

.

R

emind

her

that

she

is loved and that everything will be ok

ay

. This is the reassurance that

she

needs during times of high stress or instability.

Avoid going into unnecessary details, especially with regard to current events or news-related events. Especially for young children, news coverage and firsthand accounts can be unnecessarily scary, stress-inducing, and/or graphic. With little eyes and ears absorbing their surroundings, it's best to turn off the news.

Focus on the immediate here and now. Reassure

their

child

of

his/her safety by keeping routines and messages consistent. Spend quality time together as a way to provide comfort and a sense of security.
Remind their child that, like everything else in the world, there are things we can control and things that we cannot. The best way to cope when things get difficult is to focus on what is within their control.
https://learningessentialsedu.com/wp-content/uploads/2021/04/Copy-of-trauma-response-tips-for-parents-linkedin-and-website.png
322
600
Wendy Taylor
https://learningessentialsedu.com/wp-content/uploads/2021/12/logo.svg
Wendy Taylor
2021-04-10 11:45:19
2021-04-10 11:48:43
Trauma Response: Tips for Parents