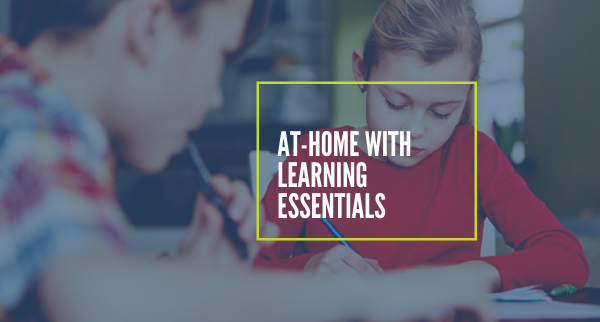 With so many unknowns about the upcoming school year, the collective unease is palpable among educators, parents, and students. Will classrooms be safe? Will adequate support services be available with staggered schedules? Will online lessons be effective for all learners?  
For students with specific learning needs, whether it be an IEP or 504 Plan, the decision about schooling in the fall can be even more fraught for parents. What is the right balance between safety and support? How can that balance be attained? What help is out there?   
Learning Essentials has a plan. As families await the decisions of state and local officials regarding the 2020-2021 school year, Learning Essentials is taking a proactive approach to supporting students in the metro DC area. It is called At-Home with Learning Essentials, and it is a new homeschooling program custom designed to teach K-12 students and support their families.  
When the pandemic hit last spring, schools rolled out distance learning plans that did not serve all students equitably. Students with special needs and learning differences were especially affected, which has led many families to consider homeschooling. With this option, however, families face the daunting challenge of selecting an appropriate academic curriculum and designating who will provide instruction, supports, and evaluation from home.   
This is where Learning Essentials comes in! 
At-Home with Learning Essentials is a new service in which our certified educators serve as the teachers of record. All of our team members have extensive backgrounds in special education. We can take the guesswork out of homeschooling by providing families with a customized curriculum, live tutoring sessions, special education resources, and guidance with in-home accommodations. 
We are here to guide students and their families through the transition to homeschooling—from withdrawing from their current school to delivering an academic program that meets their needs to reporting their progress to the county. 
With At-Home with Learning Essentials, our certified educators will: 
   Develop an individualized homeschool plan for each child  

   Maintain and grow current IEP goals  

   Customize each child's curriculum  

   Fulfill state learning requirements  

   Track and report each child's progress and milestones  

   Support transition back to school on family's preferred timeline 
With At-Home with Learning Essentials, families are not only securing the service of a dedicated educator to help them implement and track day-to-day learning, but also the collective expertise of a team that specializes in learning differences and is uniquely positioned to offer customized solutions in the home learning environment.  
Learning Essentials does the work so that children may learn, grow and achieve in a safe, secure learning environment—their own homes. Ready to explore an educational program that is tailored to children's strengths and special needs? Take the first step today by calling Learning Essentials to schedule a learner profile consultation. 
We've got you covered 
Whether families decide to take the homeschooling route or continue with their school district's virtual learning or hybrid plan, Learning Essentials is eager to assist families seeking additional learning support. This fall, Learning Essentials will be offering several different services, with each plan tailored to families' individual needs.   
Accountability Partner (1-5 hours per week) 
Need some consistent support with larger educational goals and at-home supports as children navigate their own homeschool, hybrid or distance learning program? 

Whether homeschooling or distance learning, Learning Essentials will offer accountability partnerships to help children manage coursework, plan and organize assignments and meetings, help students connect with their teachers while providing self-advocacy skills, and overall learning management via daily or weekly check-ins. 
Educational Therapist & Academic Coach (1-5 hours per week) 
Seeking at-home methodologies and materials to address learning differences and disabilities and build academic competency? Need intervention to help students develop their visual and auditory processing, attention span and memory skills? 

Academic coaches work with students to focus on any number of the following skills: time management, memorization strategies, project management using executive functioning skills, test-taking, independent study skills, and strategies for motivation, confidence, and independence. 

Educational therapists work with students on intensive interventions designed to resolve learning problems due to dyslexia, non-verbal learning disorder, reading and writing difficulties (dysgraphia), math disabilities (dyscalculia), and ADD/ADHD. 
Special Education Homeschool Provider (20 hours direct/indirect instruction per week) 
Ready to embark on a homeschooling, but need comprehensive help with daily lessons, academic supports, progress evaluation, and state reporting?

10 hours per week direct 1:1 instruction with a certified special educator.  

Daily, independent activities based on direct instruction. All materials provided. 

For students with special needs, we provide comprehensive guidance to parents regarding teaching and learning strategies, IEP/504 accommodations, and instructional best practices for in-home schooling. 

If an official IEP does not exist for your child, we will create a specific learning plan to include learning goals and necessary academic supports. 

For families who decide to transition back into public or private school, we will help with the transition process and provide input for the IEP goals.  
Whatever children may need in order to reach their full potential as a learner, Learning Essentials is here to provide guidance and support for learners of all ages and ability levels. Our goal is to empower each child to attain success!  
https://learningessentialsedu.com/wp-content/uploads/2020/07/Copy-of-At-Home-with-Learning-Essentials-linkedin-header.png
322
600
Wendy Taylor
https://learningessentialsedu.com/wp-content/uploads/2021/12/logo.svg
Wendy Taylor
2020-07-21 12:32:48
2020-07-21 13:17:16
At-Home with Learning Essentials