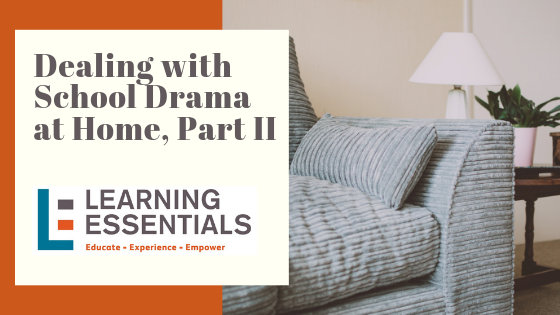 Encourage honesty with themselves and their peers. Teach your teen the importance of giving and accepting genuine apologies. Remind them what an apology should look like and that it should never happen just for the sake of apologizing or out of obligation. If a friendship is truly over, encourage teens to have an honest conversation with the peer about their feelings, as opposed to just dropping or ignoring the other person. Mutual respect when ending a friendship means providing the other person with an explanation, no matter how uncomfortable that might be at first.
Provide an alternate perspective to encourage empathy. The teenage brain does not always allow for seeing the other side of the story. However, parents can help children mediate issues and deal with drama by respectfully playing devil's advocate. Of course, you want your children to know that you hear their concern and that you support them. However, at the same time, it is imperative that teens begin to see how others may be affected by their words or actions. Parents can provide helpful insight by encouraging teens to think beyond themselves for a second. Consider what that other person might be going through at home. What issues could they be dealing with that your child knows nothing about? Is it possible that this drama began as a misunderstanding or came from some deeper level of hurt at home?
Teach them to exhibit maturity by walking away. This means that, when drama arises, teens should feel empowered to simply say, "I do not want to be part of this." Remind children that, just because one of their friends is having an issue with someone, does not mean that they must automatically join in the drama or choose sides. The "mean girl" ages certainly see this pack mentality more often than male peer groups, but choosing sides can happen in any peer group. On that same topic, remind your child that she should avoid pitting friends against one another as well. Do not try to gain sympathy by spreading the drama or expecting friends to fight your battles.
Seek help from school. If your child or teen seems to be experiencing an unusual heaviness, but is hesitant to open up about the issue, parents have a responsibility to seek answers. This might mean phoning or emailing a teacher or counsellor about what he or she is seeing at school, both behaviorally and academically. It is helpful to know in advance which teachers, coaches, or mentors your child prefers, as these are the adults that they are most likely to open up to. Ask about noticeable moodiness, loss of appetite or avoidance of the cafeteria or recess, and any perceived changes in peer groups or social circles.
As a last resort, do your due diligence. If children simply are not opening up about the issue, parents should consider checking their child's search histories, social media profiles, and any other digital platform that could provide insight. Of course, the issue of reasonable privacy and trust will arise, as no teen likes to be "spied on" or "checked up on"; however, parents must always err on the side of caution when something seems off. If your teen becomes upset by your actions, explain to him that your number one priority is always his safety and happiness—therefore, since you had reason to believe that a situation was causing him distress, you did what was necessary to help.
Do not, however, take matters into your own hands. If you find information about drama occurring on social media, do not react, respond, or step in online. Instead, speak with your child about the posts. A parent's interference online can end up making issues worse. It can also cause a teen to be ostracized and/or further targeted. Instead, if you do find out that your child is dealing with peer drama online, use the information to initiate an honest conversation about what might be happening and how the situation can be handled appropriately.
https://learningessentialsedu.com/wp-content/uploads/2018/12/Dealing-with-School-Drama-at-Home-Part-II2.png
315
560
Wendy Taylor
https://learningessentialsedu.com/wp-content/uploads/2021/12/logo.svg
Wendy Taylor
2018-12-18 11:19:02
2018-12-18 11:28:04
Dealing with School Drama at Home, Part II