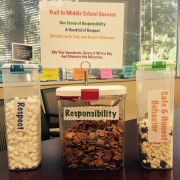 Check your child's agenda book daily

, and check not only homework, but completed homework on a regular basis.

Keep lines of communication with school open

. Don't wait for school to contact you. Take the initiative.

Get to know the teachers,

keep in contact, and understand–regardless of what your child comes home and tells you–there is always another side to the story.

Teach your child that

every teacher is different

, just as co-workers and bosses will be in life.

Be prepared for change.

Be prepared for the shock of academic and non-academic discussions in middle school about topics you never heard your child mention before.

Tell administrators about teachers

who make a positive impression. Do you enjoy being complimented? So do teachers.

Reward positive accomplishments

(agenda book completely filled in, perfect papers, etc.) on a weekly basis. A little goes a long way, and middle schoolers thrive on praise.

Get involved.

Research has shown that parents' participation increases the child's self-esteem, improves their academic performance, improves the parent-child relationship, and develops a more positive attitude toward school in both the parent and child.

Ask your child to teach you at least three new things they learned each day!

Listening is one of the greatest–and most neglected–skills of parenting. Don't be too busy with the little stuff in life to miss the important moments with your child. When they tell you about their day, look them in the eye, and listen; really listen!
Be objective. Listen to your child's teachers. Sometimes they may tell you things about your child you aren't going to like or want to hear. But remember, your child at home is not necessarily the same child they see at school. You don't have to take everything the teacher says as gospel, but make sure you really listen and consider their advice.
https://learningessentialsedu.com/wp-content/uploads/2021/12/logo.svg
0
0
Wendy Taylor
https://learningessentialsedu.com/wp-content/uploads/2021/12/logo.svg
Wendy Taylor
2015-09-08 15:13:03
2015-09-08 15:13:03
Welcome to Middle School…Your Parent Guide